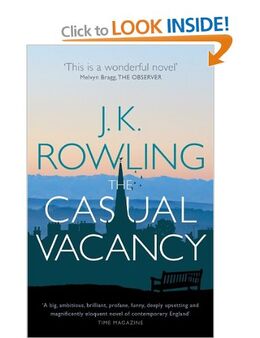 J. K. Rowling's Casual Vacancy Sphere paperback launch is on its way - and I hope to see this reaching more fans all over the world.
Release Date
Edit
The £7.19 book will be launched in the UK on July 18th 2013 and can be currently  pre-ordered on Amazon.  It will be published by Sphere. Look inside>>
Pagination: 576 
ISBN-10: 0751552860
ISBN-13: 978-0751552867
Ad blocker interference detected!
Wikia is a free-to-use site that makes money from advertising. We have a modified experience for viewers using ad blockers

Wikia is not accessible if you've made further modifications. Remove the custom ad blocker rule(s) and the page will load as expected.